PSU Asingan  trains beneficiaries on LD, SPD & FC Making with Marketing Seminar
Pangasinan State University Asingan Campus through the Office of the Extension Coordinator, Ms. Adoracion T. Gante and Office of the Research and Development Coordinator, Ms. Analyn I. Diola spearheaded the conduct of the training on Liquid Dishwashing (LD), Soap Powder Detergent (SPD) and Fabric Conditioner (FC) Making with Marketing seminar.
The said training was conducted on November 26, 2021 at Mangrove Information Center and Nursery, Bolinao Field Office, Arnedo, Bolinao, Pangasinan with twenty-five (25) participants. The participants were trained on the preparation of the products as well as on how to earn profit from the product.
Twenty (20) Kankanaey tribe participants of Sta. Maria Elementary School, Umingan, Pangasinan were also trained on the same training on December 27, 2021.
PSU Asingan representatives who trained the participants and facilitated the events are as follows, Marry Ann Soberano, Dr. Honelly Mae S. Cascolan, Analyn I. Diola, Mhean Turingan, Genesis Padilla, Adoracion Gante, Engr. Eric Cunanan, Dr. Jeanlyn Domingo, Carlos Castillo, Jerry Aclera and John Melchor Alejo.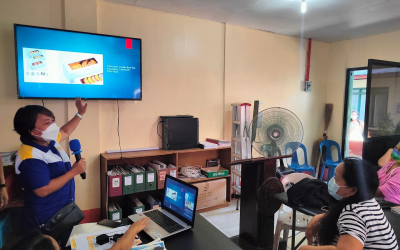 The research project entitled "101 Ways to Prepare Moringa Dishes" produced various ways to...
SSC donates educational materials to SVWIS
The Supreme Student Council considers the importance of primary education. With that in mind, SSC donated educational materials to school children of San Vicente West Integrated School (SVWIS) on September 20, 2021.
Maria Ronalyn L. Nonan, SSC President with her adviser, Mr. Christopher D. Espero spearheaded the donation campaign for PSU's adopted barangay school in Asingan, Pangasinan. With the help of some generous "givers"- the SSC, faculty and staff and some PSUnians, the donated reading books, school supplies and materials were coursed through the SSC Office to benefit mostly the kindergarten pupils of Ms. Marichu Secretario. "PSU has always been my long-time partner in this endeavor, not to mention that I am a proud alumni of the institution. Maraming salamat PSU sa walang sawang pagsuporta sa amin," she said.
Present during the event were the supportive Coordinator for Student and Alumni Affairs, Prof. Philip G. Nonales and the erstwhile Coordinator for Extension Services and Community Outreach, Prof. Adoracion T. Gante. They were both instrumental as well in providing learning kits and other educational necessities for the school children. Mr. Jojo T. Domingo, SVWIS Principal, happily received the donations with high hopes that PSU will continuously imbibe their social responsiveness amid the pandemic crisis.
Meanwhile, Ms. Analyn I. Diola and Engr. Eric C. Cunanan also extended their support to SVWIS by giving 250 Moringa Cookies as a research and extension project in their study dubbed as "101 Ways to Cook Moringga."
The undertaking was made possible because of the encouragement of the hardworking Campus Executive Director, Dr. Armando D. Junio who gave his 100% all-out support on this philanthropic task.
Faculty of PSU- ACtively planted 500 Mangrove seedlings and participated in Seminar-Training on...
The College of Education (COE) and College of Technology and Business (CTB) extended the result of...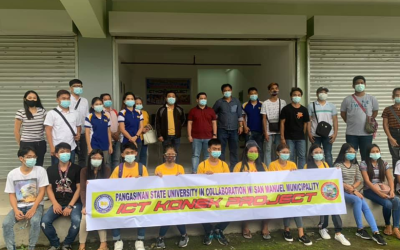 Minimizing the educational expenses of our students without sacrificing quality education and...
The ongoing project  of the  Provincial Government of Pangasinan , City Government of Dagupan –...
Gender And Development(GAD)
𝗪𝗢𝗠𝗘𝗡'𝗦 𝗠𝗢𝗡𝗧𝗛 𝗖𝗘𝗟𝗘𝗕𝗥𝗔𝗧𝗜𝗢𝗡 𝗧𝗛𝗥𝗢𝗨𝗚𝗛 𝗭𝗨𝗠𝗕𝗔 𝗗𝗔𝗡𝗖𝗘 𝗦𝗘𝗦𝗦𝗜𝗢𝗡
March is International Women's Month and it's a time to recognize the political, economic, and social impact and achievement that women around the world are experiencing. And over here in PSU Asingan Campus, we're celebrating those successes through a Zumba. Moreover, we are celebrating all the strong, ambitious, and fabulous women around the world for everything they have achieved and will achieve with a bright future. Relative to this, as part of Women's Month Celebration, the Gender and Development Unit of our campus in cooperation with the Medical Unit faculty, staff ,students and parents in the campus are being offered opportunity to take part in Zumba dance session which will be held from 9 am to 10 am on March 14, 2022 PSU-Asingan Campus Covered Court.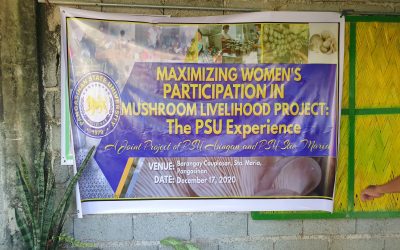 Maximizing Women's Participation in Mushroom Livelihood Project was a GAD-related Extension...
PSU ROTC Students Joined Tree Planting
The 105th (PGN-E) Community Defense Center recently teamed up with the COQC and Advance ROTC cadets of different Colleges and Universities/ROTC Unit in Eastern Pangasinan to conduct Tree Planting Activity that was held at PSU-Sta. Maria, Pangasinan last June 18, 2022.
Relative to this event, Dr. Julie S. Agpaoa, NSTP Coordinator of PSU Asingan Campus spearheaded the ROTC students of PSU-Asingan who joined the Tree Planting activity. The said activity was part of the Command Directed Activities that was programed for the 2nd Semester  A.Y. 2021-2022 involving the different Colleges/Universities under the functional supervision of 105th Community Defense Center, 1RCDG RESCOM, PA.,in collaboration with Pangasinan State University the ongoing efforts to maintain, preserve and protect the environment. Through this activity, the different colleges and universities across the nation were bestowed honors for their effective environmental management and engagement in their respective goals.
The Pangasinan State University Asingan Campus, headed by the Campus Executive Director, Dr....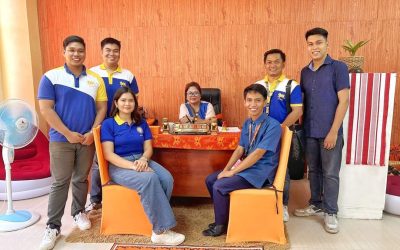 In today's fast-paced and competitive world, choosing the right career path can be a daunting task...
The PSU-AC made history by celebrating the first-ever Bachelor in Technology and Livelihood...
PSU, DOST, 2 LGUs MOA Signing
As a paragon in community development, Pangasinan State University sealed a Memorandum of Agreement (MOA) with the Department of Science and Technology (DOST), LGUs of Agno and Bautista, Pangasinan via video conferencing, today, June 21.
The project entitled "Engaging Local Communities with Science, Technology, and Innovation for Development" aims to 'uplift the socio-economic condition of the people through the provision of appropriate S&T interventions.'
Universitry President, Dr. Dexter R. Buted lauded all parties involved especially the Research, Extension, and Innovation unit headed by Dr. Paulo V. Cenas (VP for REI) for the unhampered efforts in empowering local communities through relevant programs as such, even with the present debacle.